Fiji Orthotic Flips - Women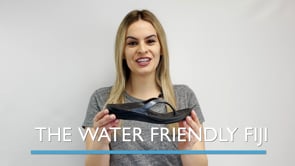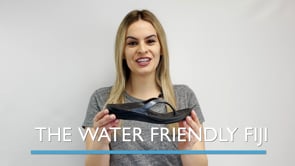 Recommended for
Shock Absorption
Plantar Fasciitis
High Instep
Morton's Neuroma
Arch Pain
High Arch
Flat Feet
Hammer Toes
Bunions
Heel Pain
Home Wear
Ball of Foot Pain
Metatarsalgia
Pregnancy
Fiji Orthotic Flips - Women
Enjoy the most comfortable footwear experience on earth with the Fiji! These water-friendly orthotic flips are made from UltraSky™ injected EVA to provide extreme cushioning, shock absorption and durability. The toe post is specially designed with super soft foam to keep your toes comfortable all day long.
The Aetrex Orthotic System is Built-In to every pair:
Arch support helps to stabilize and align feet
Arch support helps to relieve common foot pain & plantar fasciitis
UltraSky™ to cushion and provide superior comfort
Contoured rearfoot to cradle your heel and relieve pressure
Support pod to help relieve forefoot pressure
Details:
Adjustability: None
Material: Lightweight UltraSky™ for comfort
Removable Insole: None
Heel Height: 1.1"
Metatarsal support to help reduce ball-of-foot discomfort
Soft toe post for extra cushioning
Extreme cushioning and shock absorption to help prevent injury and provide unmatched support
Water-friendly construction, so light they float
Product features
Product features
Arch Support
Designed to help support natural alignment, our unique arch support position, height and contour aligns in the proper place to help support our bodies from the ground up and helps to relieve plantar fasciitis and common heel/arch pain.
Dual-Density Outsole
A feature that provides pressure relief and shock absorption in the ball-of-foot and heel area.
Lightweight
Aetrex Flips are designed using light-weight UltraSky™ EVA with a water-friendly construction. It is specially engineered with super soft foam to keep your toes comfortable all day long.
Metatarsal Pad
Built in forefoot support that helps unload pressure at the metatarsal area and provides cushioning to help relieve discomfort.
Open Toes
This type of shoe provides ample room for your feet and is beneficial for conditions such as Hammer Toes.
Pressure Relief Footbed
This footbed is designed to help relieve any under foot pressure and discomfort.